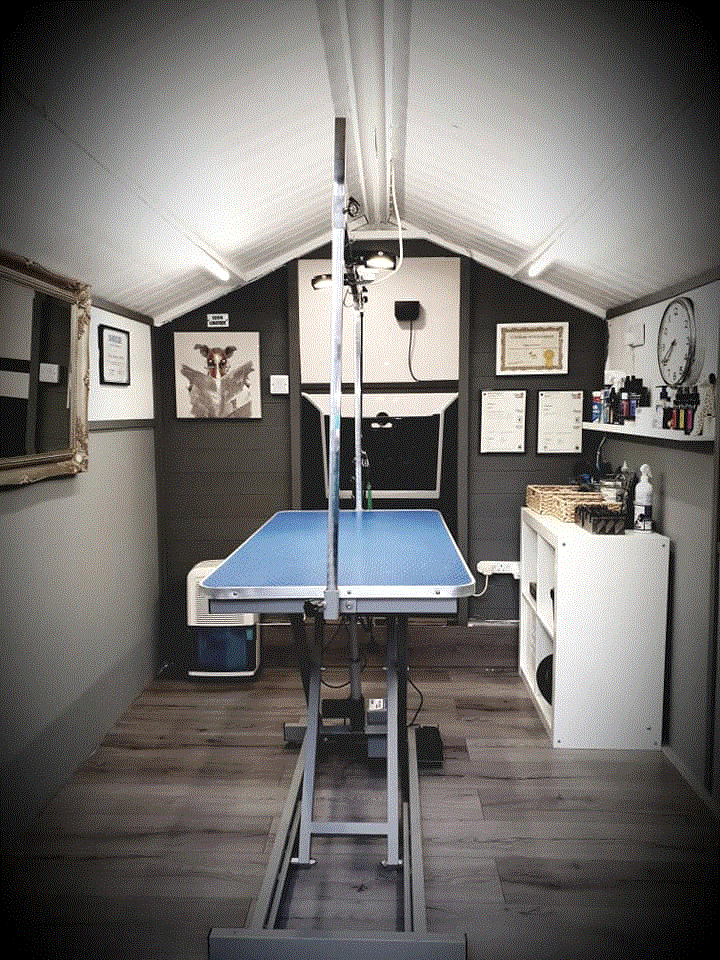 Hello, I'm Dan and this is how it all happened ...

Being in the airline industry for over 22 years and always provided excellent customer service has given me a passion and flare for service and how it should be delivered!
Along the years I have always had pets and a love for dogs, I always wanted to work with animals and over the years I groomed my own two miniature schnauzers and my friends dogs - this gave me a good insight into grooming and led me to my new adventure and career of which I love and take great pride in!
6 years ago I began grooming quite regularly and before I knew it I was enrolled on a course to obtain my required qualifications and have now embarked into a new chapter!
I am now a professional groomer and very proud to have trained with Heavenlyz - City & Guilds L3, one of the greatest academies in the country, the UK's largest animal care and grooming training specialist www.heavenlyz.com. I regularly attended courses to stay up to date with new products, tools, styles, grooming procedures and legislation.
Doggie Style Grooming Studio is a home based business, tucked away in the privacy of a lovely garden in a cute and modern cabin, uses selected grooming products and modern grooming equipment and does NOT crate/cage your pet, therefore a relaxed environment is always created.
A strict 1-2-1 grooming experience is operated therefore your dog is kept safe, relaxed allowing attention to detail. LOTS of pooch LOVE will be given during your pets visit and will he/she be cared for at all times!

Water and toilet breaks are given if necessary in the safe haven of our garden.

Get in touch and w will be happy establish your dogs needs! I will get to see the pooch and assess their coat, temperament and discuss any requests and tailor the groom to your needs
We look forward to meet you...
Dan
What our customers are saying​

We have a 1 year old Frenchie. Dan was great and came to do a home visit with very short notice. He gave us some great tips on general home pampering too! Great service, Thank you!

Dane Pinder




Great service and definitely be using again! Went to Leamington to visit friends who told me about Dan, I called and he was so accommodating... made an appointment and off I went! Lovely atmosphere, Dan looked after my dogs and did a fantastic job! They looked lovely and smelled amazing for days! Definitely recommend it! Thank you! Will visit you again when I'm Leamington!

Julie Davis-Riley




Nail clipping is a nightmare... Dan sorted this out for me in no time!

Duke has now got short nails and soft pads... I never knew a balm treatment on pads would be so beneficial! Cheers,

Andrew Morton




Dan was wonderful with our Maltese and Maltipoo,

who are quite nervous with previous groomers,

Dan was gentle and loving and calmed them down.

They looked amazing all fluffy smelled squeaky clean!

I don't like to stress my dogs by sticking them in a van... so it was great to have them groomed at home in their own surroundings, the home visit worked very well for me and my dogs and Dan took care of the clean up too! Amazing!

Helena Knopp







I have a nervous 3 year old Shih Tzu who hates having her nails trimmed, my dog was very relaxed and it's clear to see that Dan is genuinely a dog lover! She also looked lovely when I picked her up! definitely received a SPA treatment! I will be going back, Thank you,

Mary Priestly




Dan has done an amazing job on our Cavapoo!

He is very professional, likeable and incredibly talented!

Thank you so much! I have invited dog owners to follow you too! I will happily recommend Dan to friends and family. Oh! I almost forgot! He's very reasonably priced too! which is a huge bonus! Thank you Dan!

Bally Autwal




I have a VERY active 8 month old Cockerpoo and was looking for a groomer... saw a flyer in a cafe' in town and gave Dan a call...

The rest is history! A great guy with a passion for dogs and excellent service! Thank you so so much, Charlie was a very happy pooch and looked amazing! See you soon!

Dave Smith




Quick shampoo and dry and trim is what my Westie needed after being in the snow! Dan was so accommodating and managed to find an evening slot, so very convenient for me getting there after work! great job, great service, will be returning! Thank you!

Annie Westwood

0

/